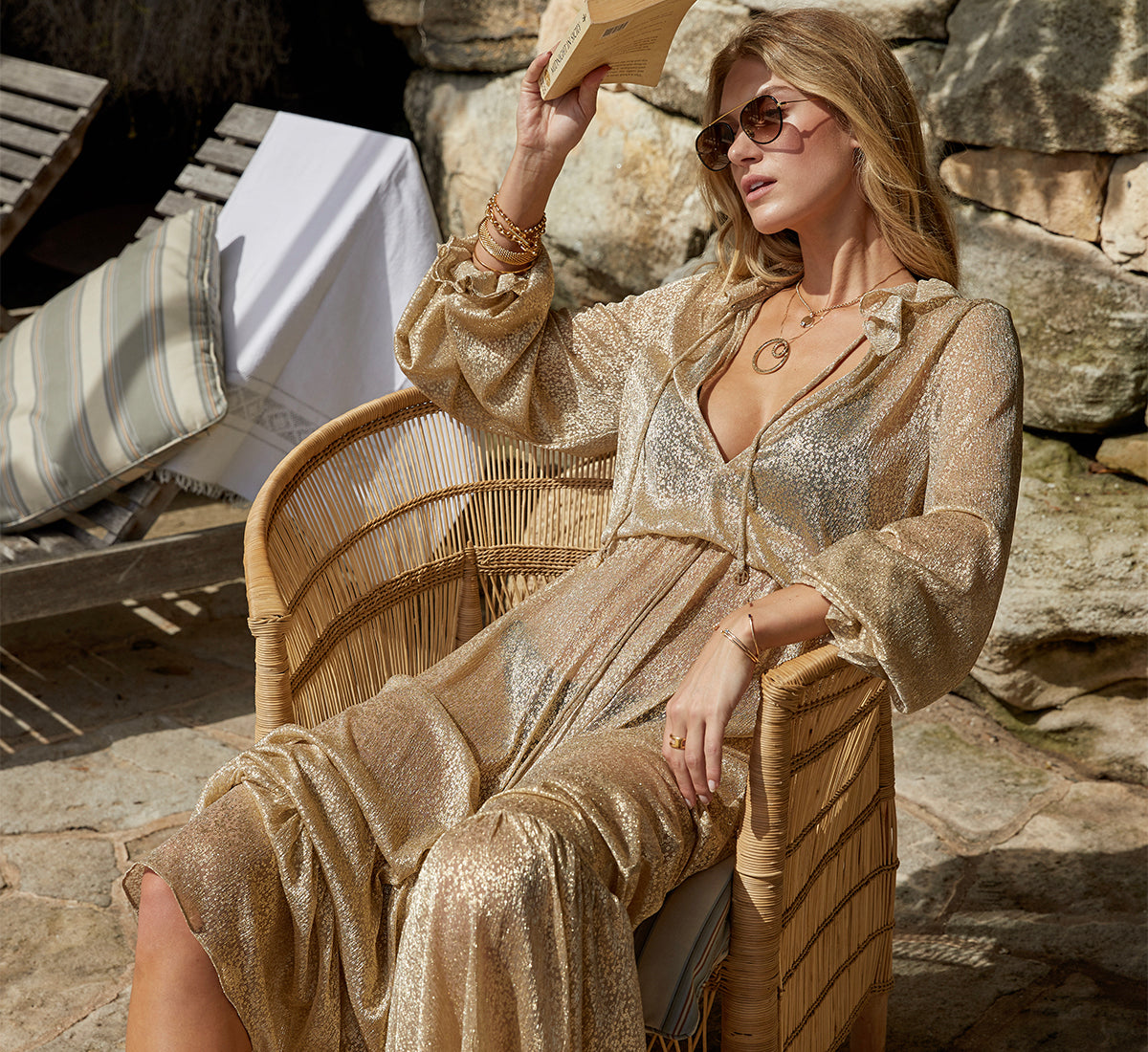 About Luxe De Valentina
Designed and crafted with thought and consideration, LDV is a slow fashion brand that delivers timeless and elegant separates for a customer who values quality, sophistication and tailoring. 
Sourcing the finest materials from around the world and working to a high standard of quality craftsmanship, LDV delivers collections customers can wear for seasons to come. Emma travels regularly to Europe & Asia to source design inspiration and the perfect fabrics she knows her customers will covert. Each garment is meticulously crafted, with attention paid to every detail, from the stitching to the bespoke buttons and trims.
"My vision is to create collections that will withstand the test of time. When I launched the brand in 2018, my desire was to offer classic, dramatic pieces that echoed quality over quantity, but above all versatility. That's what continues to set LDV apart."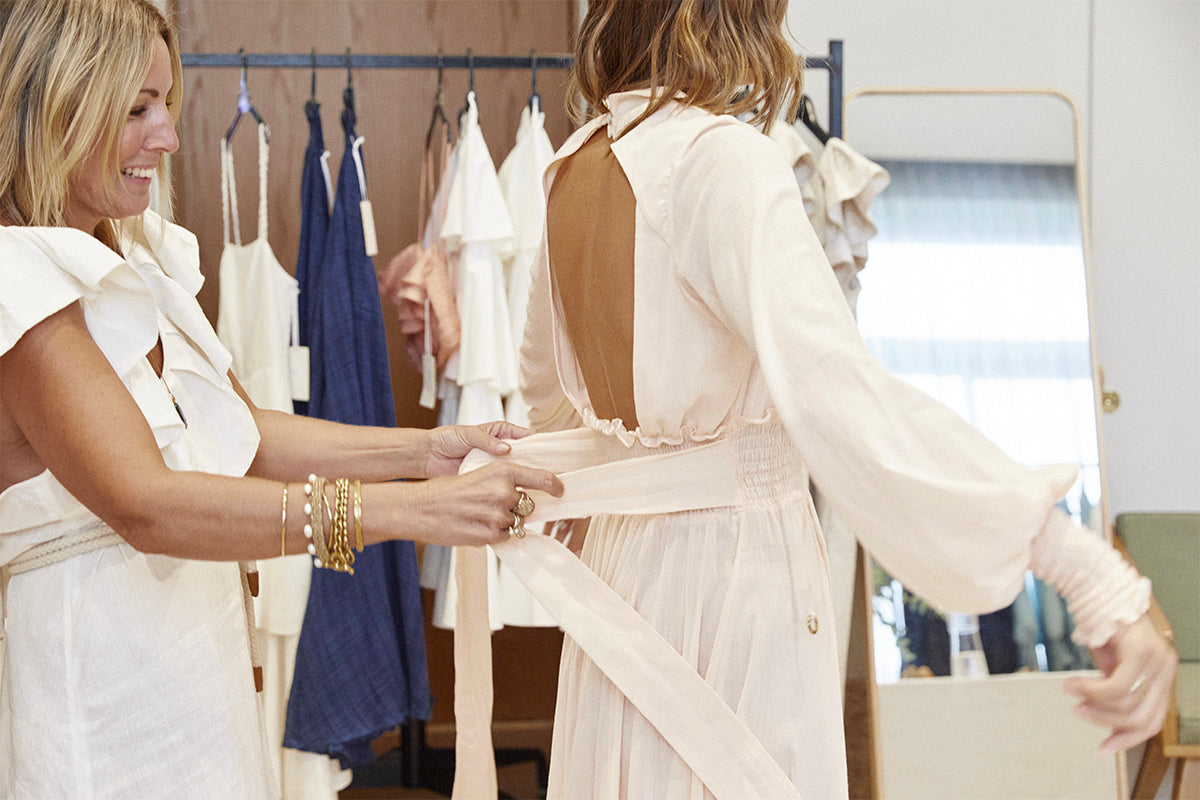 Sustainability
LDV strongly supports local, small batch production and quality craftsmanship. As the brand grows, a commitment to slow fashion and sustainability remains integral to its core values.
The seasonal collections consist of separates that can be mixed and matched to create a variety of stylish looks. They offer everything from dramatic taffeta skirts and wide leg trousers to floaty maxi dresses and elevated basics. Always searching for something out of the ordinary, LDV collections feature metallic fabrics, lace and rich linen as well as wool blends to create versatile wardrobe solutions that can be dressed up or down at home or while travelling. 
LDV has quickly gained a following among style-conscious women who appreciate the quality of their clothes. Known for luxurious fabrics, impeccable fit, and timeless designs, LDV has a boutique/showroom in Sydney's idyllic Watsons Bay, an online store that ships worldwide, and is available at a curated list of boutiques throughout Australia. 
We are a slow fashion brand that sources remnant fabrics and short run production so when limited edition styles sell out, they are only ever restocked in new fabrications. 
We offer pre-order to help manage fabric consumption and avoid wastage.
"I hope you enjoy wearing LDV and always feel effortlessly elegant every day and after 5."
Testimonials
We love to hear from our wonderful customers about their LDV experience.
"I just wanted to say THANK YOU LDV. I have received my beautiful yellow dress and absolutely love it. Your hand written note was such a lovely touch. Wonderful to see such a beautiful beautiful dress made and sent with love."
"Wearing this outfit for the first time today. I feel so special in it! "
"Luxe de Valentina, I want to thank you for the skirt you sent me - it's more beautiful than I'd imagined and I'll wear it to a special event in Melbourne...Every piece you've made for me I adore….beautiful fabric, perfect sizing and skirts and tops I wear all year." 
So, so, so happy with my amazing box of goodies!!! Thank you so much Emma!!
"We LOVED coming in and seeing you and your beautiful clothes. I'm so excited about my new items and can't wait to wear them."
"Loving my skirts and pant I purchased.... I look forward to seeing you and your divine comfortable designs soon."
"Thanks again for your wonderful service and beautiful designs. I'l be sharing your details with my friends…"
"Oh Emma, how fabulous! I have several friends that would also be very interested to see your beautiful collection."
"Thanks Emma. Your clothes are divine."
"Inspiring! Luxe de Valentina has some great statement pieces that can also be toned down for a more relaxed look."
"Emma lovely to see you and your incredible LDV collection... so clever... just wanted to let you know I'm thrilled with my skirt and dreaming about that leopard print skirt tonight !! Thanks so much."
"I couldn't adore this whole look more if I tried - stunning!"
"Thank you so much for your amazing service!"
"I am about to order the Oleander skirt, love love, love your style. Thanks for your gorgeous label; know the hard work that goes into producing these lovely garments."
"Congratulations Emma on another beautiful collection."
"I love introducing my friends to your clothes Emma."
Thank you so much for the navy pants I recently purchased. They are stunning and I just love them!
"This looks fabulous... I am still loving my skirt from 18 months ago."
"I received my coat! Thank you for being such a cool designer. I love your style."
"Hi Emma Thank you for my top. I love it!"
"I'm obsessed! Your clothes are simply stunning. Thank you for letting me try on your pieces."